To ensure the development of our immersion data centre solution, our company called on a renowned laboratory based in Dinan: the Pôle Cristal laboratory. Equipped with 4 climatic cells, temperature-controlled hydraulic loops and extensive instrumentation capacity (temperature, pressure, hygrometry, air speed, electrical values), our HYPERION solution has been tested in optimal configurations. A look back at the various tests and technical trials carried out in 2022
Heat recovery performance for Hyperion: successful trials
Feedback on the tests
After a whole expedition, HYPERION arrives at the Pôle Cristal in Dinan. It is a whole series of examinations that our tank is getting ready to undergo, as it is being fitted with 10 thermocouples throughout its interior… The aim is to monitor temperatures, detect the presence of hot spots and check the homogeneity of the temperature.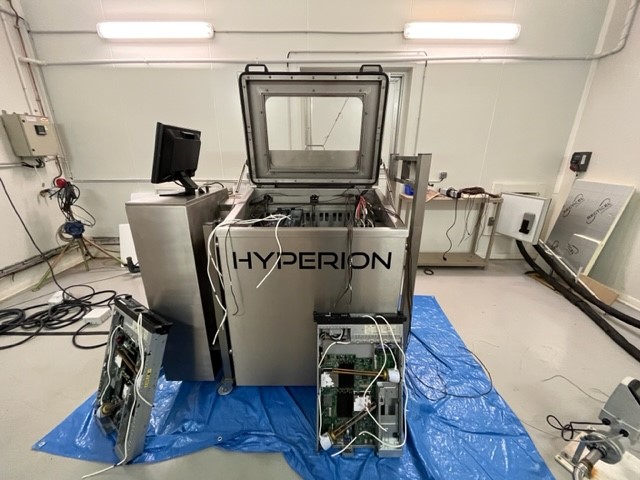 The testing process consisted of 6 steps:
Step 1: filling the tank
Step 2: Flow test 1: 2.5 m3/h
Stage 3: Flow test 2: 1m3/h
Step 4: Water + oil cut-off test,
Step 5: emptying, draining, cleaning
Step 6: Analysis of the results.
The implementation of these different stages made it possible to evaluate in particular: power control, heating identical to the servers, the dynamics of the equivalent fluids, the glycol water cooling loop (Ethylene glycol 25%).
In total, 3 different types of oil were tested on our Hyperion solution, with conclusive results.
Thank you all for the smooth running of these tests!